No printer? no problem simply download your tattoo design to your phone or tablet and take it to your favorite Tattoo Studio!
Browse through our online gallery of original designs to find the perfect tattoo(s). Once you find your tattoo click the "Add to Cart" button you may proceed by clicking the "continue shopping" button or the "Check Out" button to checkout and finalize your order. During your checkout please follow any specific directions on those pages to complete your order.  
As soon as your payment is approved you will be redirected to your "Download Page" containing the download link(s) click on that link(s) and you will see your tattoo design(s), then right click on the design and select 'Save image as' save the high resolution design to your computer and enjoy your product!. The size of the downloadable files is from 350 to 600 KB (download time approx. 5 seconds). If you have a problem or experience an error in downloading your designs please contact us here. We will make sure you get your design(s) Immediately. Please do not re-order the design(s). 
Warvox.com only sells TOP QUALITY tattoo designs. When you purchase a Tattoo Design from Warvox.com you will receive a full sized image scanned in at 150 dpi. which guarantees you a high resolution graphic. Perfect for taking to a tattoo artist to tattoo as is or to change the color to whatever you wish – the tattoo artist will also be able to re-size the design and customize it in any way you like. If there is an element of a design you don't like, the artist will simply omit it. You can also purchase multiple designs and have them combined into one unique custom tattoo!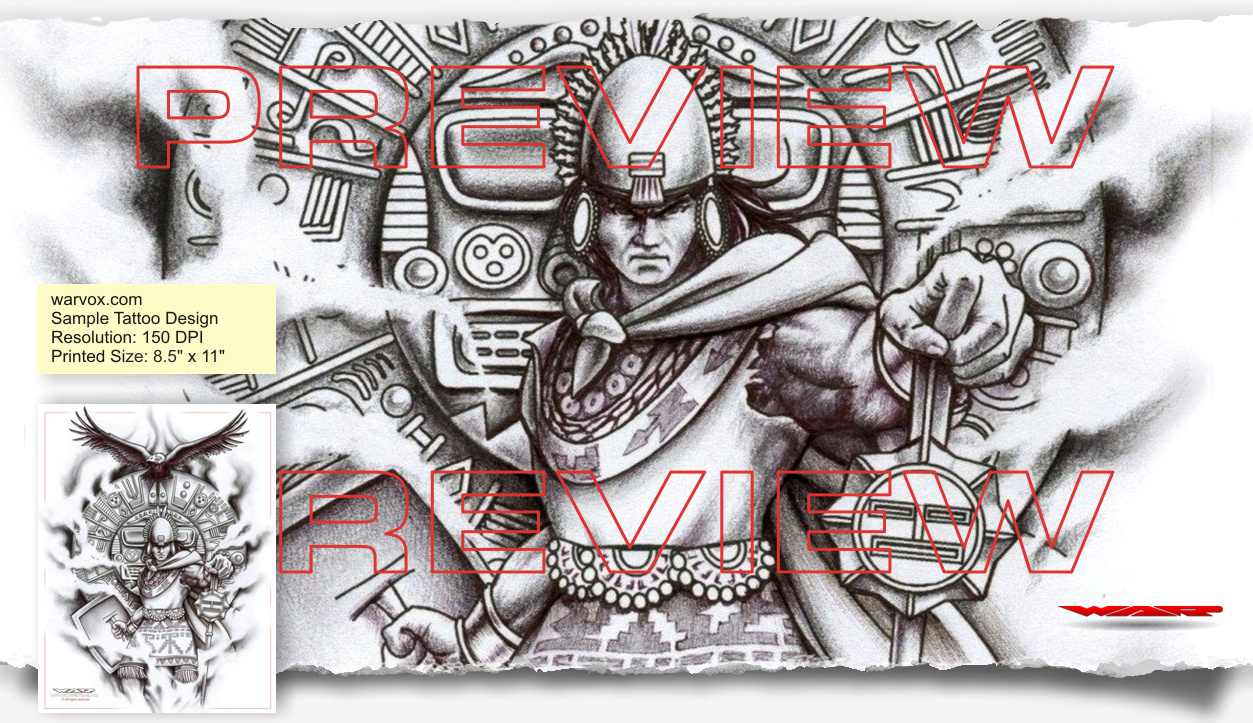 The size of the downloadable files is from 350 to 600 KB (download time approx. 15 seconds). Please remember graphics are copyrighted and by purchasing you are authorized to print for your own personal needs, but the graphic may not be resold. 
Our goods and services are sold through PayPal and 2Checkout.com , Payments are processed on secure servers by PayPal and 2Checkout


PayPal by clicking on the PayPal option during checkout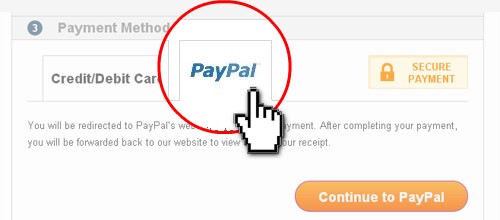 Absolutely NO credit card information will be revealed to Warvox.com owners, all transactions are on PayPal or 2CO's secure server. Making online shopping easy and keeping your banking information safe.
Accepted credit cards and currencies
We accept customer orders via PayPal, Visa, MasterCard, Discover, American Express, Dinners, JCB and debit cards with the Visa and MasterCard logo



All prices on our products and service are given in USD, but in case you use Visa or Master Card, you can pay by your national currency. 2Checkout system supports the following kinds of currencies:
US Dollars, Argentina Peso, Australian Dollars, Brazilian Real, Canadian Dollars, Danish Kroner, Euro, GBP-Sterlings, Hong Kong Dollars, Indian RupeeI, srael Shekel, Japanese Yen, Lithuania Litas, Malaysia Ringgit, Mexican Peso, New Zealand Dollars, Norwegian Kroner, Philippines Peso, Romania Leu, Russian Federation Ruble, Singapore Dollar, South African Rand, Swedish Kroner, Swiss Francs, Turkish Lira, United Arab, Emirates Dirham.
Terms & Conditions of Sale
All pricing of items is subject to change
All purchases are made by downloads
All sales are final
The purchase of Warvox Flash is not for duplication and is to be used only for your own personal needs.
Warvox reserves the right to revise these terms and conditions at any time.
COPYRIGHT WARNING
Designs purchased at this site are for personal use only and/or for use as reference to apply an actual tattoo on the skin. No one may sell, distribute, and/or in any way make use of the images and designs displayed on this website in any way other than described above without the express written consent of the owners.
Warvox Return Policy
There are NO refunds on Electronically downloaded tattoo designs, unfortunately because of the nature of what Warvox.com is selling, there is no way that we could be guaranteed that the design purchased was not accessed and used after a sale. Therefore, all sales on Warvox.com are final.
If there is a problem with your order, please contact us here.
Warvox Privacy Policy
To protect your privacy at no time does Warvox have access to your credit card information. The information we collect (name & email address) is for our use only . We do not sell or rent your e-mail address. Warvox may disclose user information in special cases when we have reason to believe that disclosing this information is necessary to identify, contact or bring legal action against someone who may be causing injury to or interference with Warvox rights or property.
Your Acceptance of this Terms
By using this site, you signify your assent to the Warvox Privacy Policy. If you do not agree to this policy, please do not use our site. Your continued use of the Warvox site following the posting of changes to these terms will mean you accept those changes
If you have any questions regarding your digital download order, please see our Faq page or contact us through the online contact form.
FAQ 

 

Frequently Asked Questions

 
Browse through our online gallery of original designs by choosing a Tattoo category on the right or typing a keyword(s) on the Search box above. Once you have found your tattoo design click on the "Add To Cart " button and the tattoo design will automatically be added to your Shopping Cart page. You can now click on "Continue Shopping" to continue browsing tattoo designs or click on "Checkout" to proceed with your order. If you continue shopping, your Shopping Cart will always be viewable by clicking the "CART" button on the top of all pages. When you have finished browsing you can checkout and pay for your design by clicking on the "CART" button, enter your payment information and complete the order. 
You download a high resolution tattoo design scanned at 150 dpi. that will print out awesome. A full download is available to the consumer as soon as your payment clears. We will also send the download link(s) to the e-mail address you used to place the order. Simply click on it and the download begins.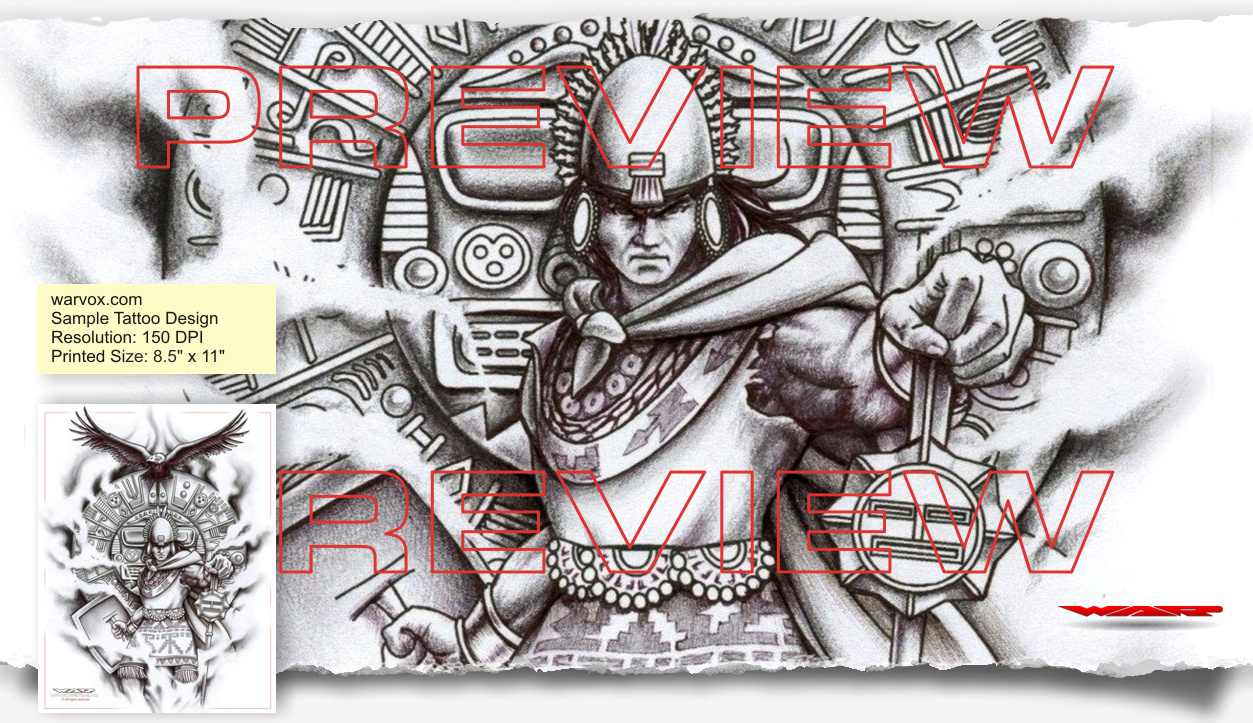 Every order is subject to manual fraud review by 2Checkout's professional fraud analysts, Usually it takes 2 minutes before you receive the download links. However if there are some fraud suspicions associated with your order, it may take up to 24 before you get the download links.
Fraud suspicions may arise as a result of one or more of the following reasons:
– your IP address is in a different country or state than the billing address.
– invalid phone number is used.
– an anonymous(free) e-mail is used with your order.
Download purchases made with Digital Checks require the payment to clear before you will receive access to your design. This can take 3-4 business days. In order to pay by check you must have a US personal or business checking account. 
 As soon as your payment is approved you will be redirected to your "download Page" containing the download links and a copy of this page with the download link(s) will be sent to your e-mail address. If you haven't received this info, it's probably because:
The email which was sent out has been trapped by a spam filter
Solution
Check your spam/junk folders. If it isn't in there, contact us here and we'll be able to resend it to you (make sure you tell your spam filter to accept emails from orders@warvox.com)
You typed your email address wrongly when you purchased
Solution
Contact us here with the name you used when you purchased and we'll be able to resend the email containing the download links.
If it has been more than 4 hours, do feel free to contact us here, but please be aware that the most common problem is that the email has been trapped by a spam filter (and then any subsequent emails we send will be trapped as well!). Please make sure you set up your filters to receive email from the orders@warvox.com.
To ensure that Warvox e-mails arrive in your INBOX safely, please add orders@warvox.com to your e-mail address book or Safe Sender list. If you need more details on how to add e-mail addresses to your Safe Sender list, please contact your e-mail service provider. If you do not receive our emails, please check your spam or bulk e-mail folder just in case it got delivered there instead of your inbox. If so, select the message and mark it Not Spam. This should allow future messages to get through. 
Once you purchase a tattoo, a download page will show up, click on the link(s) and download your designs (right click on the design, select "Save Picture As" and save it to your computer. A copy of your download page will be sent to your email.address. 
All images sold through Warvox.com are copyrighted and intended to be used for your PERSONAL USE ONLY. The assumption is that you would get the design tattooed on your body. You can not resell the design or use the design for any commercial purpose. Using designs for resale is a violation of U.S. and International copyright law. Doing so will cause us to prosecute to the fullest extent of the law and we will not hesitate to foward your name for prosecution.
First save the tattoo design to your computer(Do not print from the browser window print option). Follow your printer's instructions for printing on standard 8.5″ x 11″ paper. Adjust the paper guides to hold the narrower width of the label form. Use your printer's default settings for printing on 8.5″ x 11″ paper.
On some printers, the paper guides automatically center the label form on the printer carriage. If you have such a printer, load the label forms in the letter size paper (8.5″ x 11″) tray and follow your printer's instructions for printing a letter size paper.
Any decent color printer will work. For best quality use a laser printer. If you do not have a color printer you can transfer your images to a disc and take it to your nearest copy center. 
If the above answers did not address your questions please contact us HERE